If you're from interstate and thinking the Yarra Valley or Mornington Peninsula is "the" wine region in Victoria, then you haven't heard of Jack Rabbit Vineyard or the magnificent Bellarine Peninsula. If you're looking for cool climate excellence (hint: think chardonnay, pinot and shiraz – all regional signatures) you've landed in the right place. You just can't beat the vibe of Jack Rabbit Vineyard. Located less than a 90 drive from Melbourne and only 30 minutes from Avalon Airport, if you're planning a trip to Victoria's wonderful wine regions, Jack Rabbit Vineyard and the gorgeous view of Port Philip Bay from the House of Jack Rabbit Restaurant and the House of Jack Rabbit (Cafe) should be on the top of your travel list!
Dine in Splendor Overlooking Vineyards with Bay Views
The Jack Rabbit Restaurant has world class food coupled with great views overlooking Corio Bay. The perfect setting for that special someone in your life! Travelers from Melbourne can catch the ferry over from the Docklands. For those wishing for a more relaxed scene, the House of Jack Rabbit (Cafe) offers a casual style lunch and dinner menu. Go on, order up the cake and desert wines as you can walk it off around the expansive grass area later. Or even better, sign up for Yoga in the Vines at Jack Rabbit Vineyard. It's very popular with the locals and the perfect excuse to revisit while you're visiting the Bellarine Peninsula.
Best Friends Forever Memories Abound
Not too many winery restaurants command a 'vibe' like the House Jack Rabbit (Cafe). It's full tilt for friends who want to relax in style and enjoy the elegance in a bayside atmosphere. Views over the Corio Bay interlaced with casual yet fashionable patrons is the perfect way to snap that Instagram photo and keep the memory of the afternoon with family and friends forever. Put the Rose wine on ice, adjust the sunglasses and kick back to enjoy the Spring and Summer breeze while you toast to good health.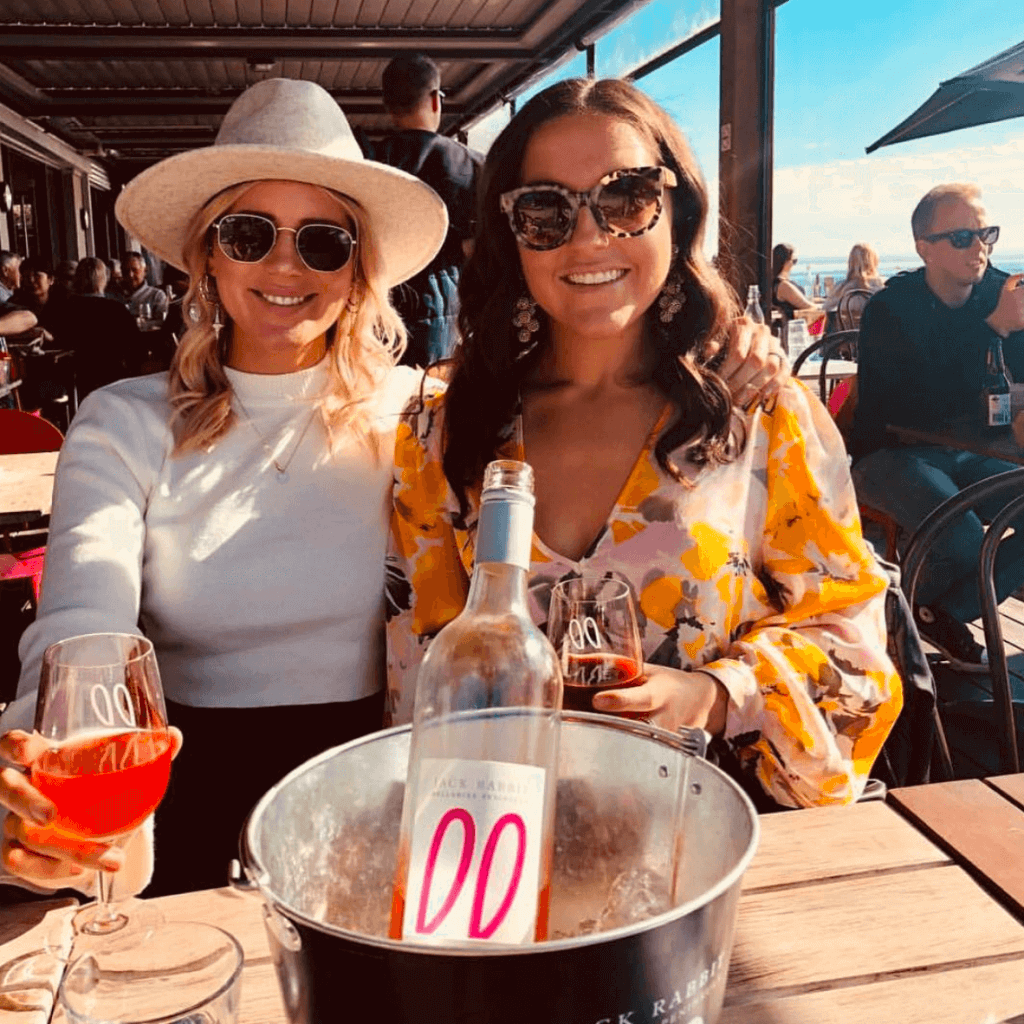 Cellar Door Open 7 Days a Week
Open from 10am – 5pm daily, the Cellar Door and tasting room in the House of Jack Rabbit (Cafe) is very popular with groups of friends. Dine a la carte or else ask the friendly Jack Rabbit team about the Group dining options (which need to be pre-booked) – there are quite a few that will get you jumping for joy! Guided wine tastings are $5 per person but complementary for those dining. Bookings are highly recommended, Jack Rabbit is the local hot spot for good reason!