Capturing stunning views over the vineyard and out towards Reeves Point, Bay of Shoals Wines is well worth a visit.
With its first harvest in 1998, Bay of Shoals is a boutique winery located on Reeves farm, which was part of the first land subdivision in South Australia. Owner John Willoughby first spotted the farm whilst sailing past on his yacht" Enchantress".
The cellar door was established in 2006, and offers wines that are sophisticated, yet approachable, with a range of varietals to suit any occasion. Bay of Shoals produces beautiful award-winning wines that benefit from a maritime climate, enhancing the fruit flavours. In fact, their Riesling vines are thought to be the closest to the ocean in the Southern Hemisphere, at just 30 metres to the water's edge.
Bay of Shoals wines really are an authentic Kangaroo Island product as their grapes are grown, harvested, and made into wine on site at the winery by winemaker Kelvin Budarick, who came over to the Island from the Clare Valley, bringing with him 30 years of winemaking experience. It is no surprise that Kelvin's wine of choice is Riesling, stating that his love of Riesling goes beyond the clean citrus flavours, he likes its versatility.
Kelvin has been involved one way or another in the wine industry all his working life, becoming assistant winemaker at Leasingham wines in 1990.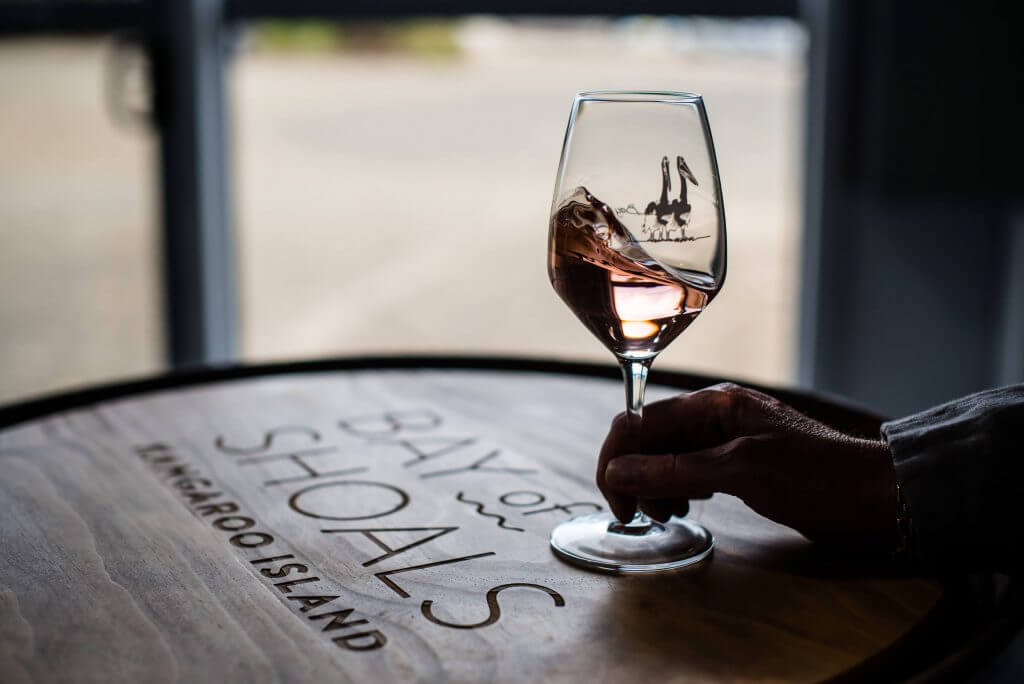 Kelvin modestly points out that at Bay of Shoals Wines he has been given the opportunity to manage the whole process of winemaking from start to finish, from tending the vines through to controlling the fruit and making the wine. Vine to glass, so to speak. Kelvin believes good wine is a reflection of good fruit and attention to detail, believing that what happens in the vineyard is key to the success of producing quality wine.  Bay of Shoals believes that their wines are special because they are a true expression of the fruit characters of each grape variety grown in the vineyard.
Aside from beautiful wine, visitors will find endless nautical references and curiosities, a result of a collection of traditional boats, charts, oars and instruments collected by owner John Willoughby, a passionate and accomplished sailor, having competed in six Sydney to Hobart yacht races and winning the Melbourne to Hobart Westcoaster, in 2010.
A love of sailing and the sea is evident as you stroll around the property and cellar door, sails from many Sydney to Hobart yacht races adorn the walls of the cellar door with stunning sea views as a backdrop and beautiful old boats resting against tree stumps. 
BUY WINES ONLINE AT BAY OF SHOALS WINES