Arimia Estate: An Organic Mission
The good people at Arimia Estate in Wilyabrup (Margaret River region) in Western Australia use organic farming principles, operating off the grid, reducing waste, and growing all produce used in their wines and restaurant. Their mission is to leave the land we've farmed in a healthier condition than that in which we found it. If we all had that mission, the world would be a better place wouldn't it?
Farmers First Principle
One of the missions for Cellars.com.au is to celebrate and amplify the story of Australia's family boutique wineries. Hard working farmers who toil for perfection for our satisfaction of tasting their wine. At Arimia, they are farmers first. The driver here isn't the wine or food itself but the positive impact they can have on place through the production of these things. The restaurant and cellar door are a celebration of place: from our bottled wine and olive oil to the pork and trout dished up on the deck.
The Arimia Property: Australian Certified Organic
Arimia is a 138 acre property spanning both sides of Quininup Road in the Wilyabrup sub-region of Margaret River, just 2km from the Indian Ocean. It is now a sustainably managed and organically certified mixed farm, with 8.4ha of vineyard, 2ha of olive grove, 1,000sqm of vegetable gardens, pigs, sheep and trout. This is the Arimia from which award-winning wines and head chef Evan Hayter's cutting edge food come. As a result, the fruit, vegetables and animals they farm have more flavour, are healthier, and are a more authentic representation of the land.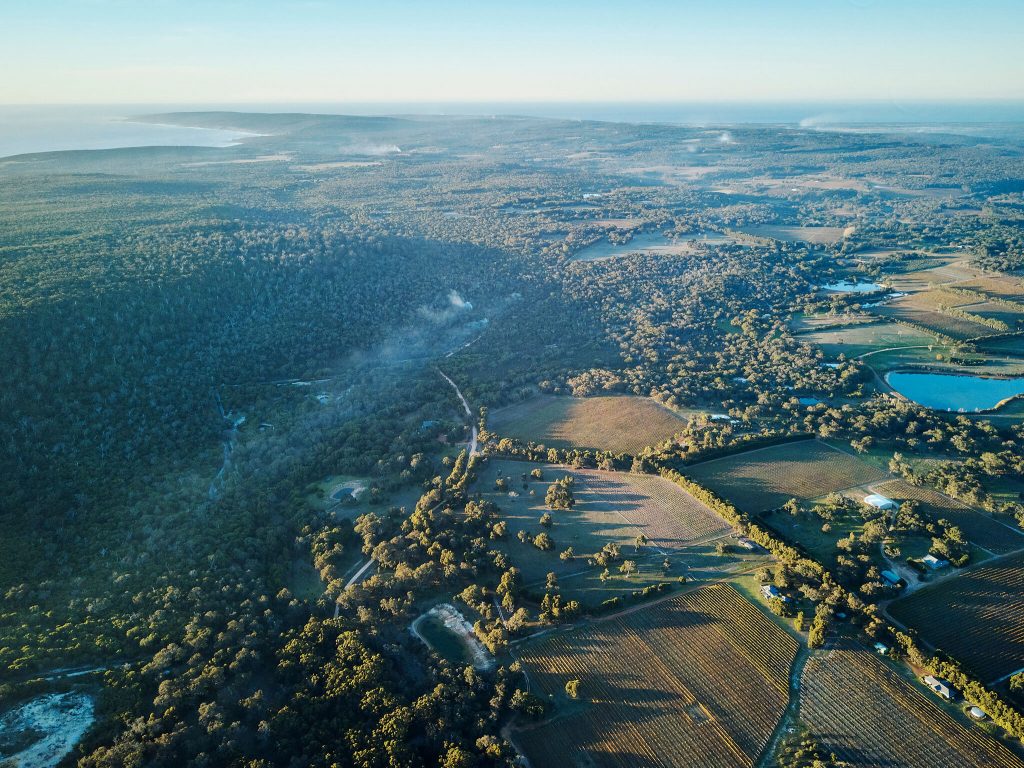 Wines Infused by Winds from the Indian Ocean
The Arimia vineyard is primarily based on sandy top soils, over a lateritic clay subsoil, varying in depth from 20cm to in excess of 1m. These soils, and the winds directed up the valley from the Indian Ocean, provide a freshness and brightness of fruit and perfume in the Arimia's wines, which are framed by great natural acidity. The wind also provides a natural protection against fungal disease and helps with organic management.
Arimia wines are made by Mark Warren at Happs Wines in Dunsborough. A self-confessed 'chemistry nerd', Mark is a trained microbiologist and biochemist, and has made wines in the Swan Valley and Margaret River for more than two decades. He has also lectured in Wine Science and Advanced Sensory Evaluation at Curtin University's Margaret River Campus since 2004 and makes wines under his eponymous 'Marq' label.
Our Restaurant & Cellar Door
Having worked in Michelin starred restaurants across Europe, Arimia head chef Evan Hayter serves modern Australian cuisine with some Japanese inflections using seasonal ingredients grown and reared on site. Fiercely dedicated to conscious farming and cooking, Evan's food is an extension of the Arimia story, and in eating it, you become part of Arimia's mission to give back to this land that gives so much to us. Wine tastings are conducted by their small and highly knowledgeable team, who can also help diners pair wines from the varied selection with visitors meal. Farmed the same way, Arimia's wines and food are crafted to be enjoyed together.